SqlBak.com is the only service that allows you to backup and restore SQL Server databases through your browser. You would need to install a small service program on your SQL Servers computer – everything else is done through your control panel on SqlBak.com
The most important task for a DBA is to provide regular database backups. In this case you need some kind of scheduler that will perform backups automatically. You can tune the job scheduler if you own full version of Sql Server, but if you need to perform SQL Server Express backup then you probably need some third-party backup tool.
SqlBak allows you not only to run scheduled SQL Server Express backups and send them to Dropbox, but also to manage them via the web. Let's see how to do it.
Create an SqlBak Account
If you do not have SqlBak account yet, just sign up to a free plan – it only takes a few seconds.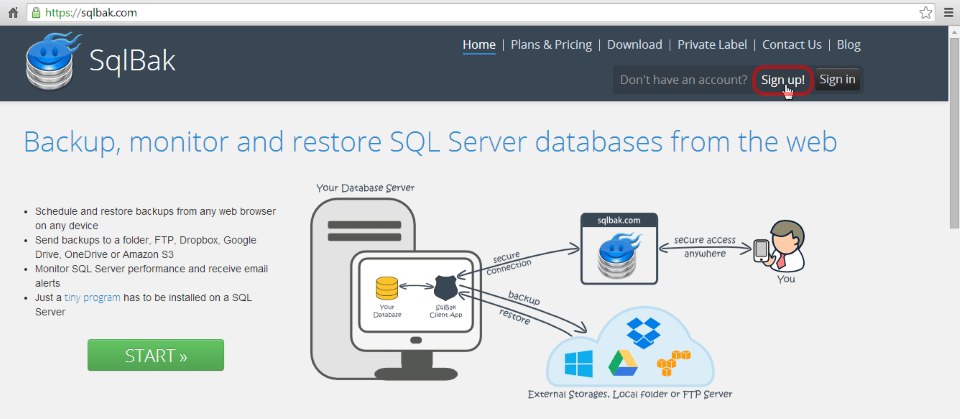 Install SqlBak App
First download and install a tiny service program for your SQL Server computer – SqlBak App. After installation you will see this form: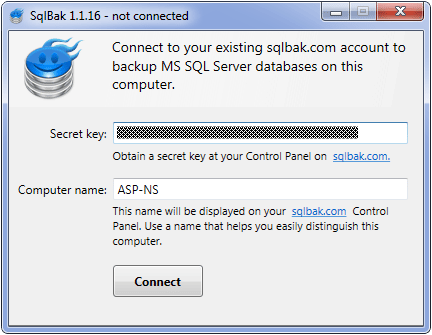 To connect this installation to your SqlBak account, you need to enter a secret key from your SqlBak account into this app. To get your key, go to SqlBak Dashboard, click the "Secret Key" button, then copy your key and paste it into the "Secret Key" field in the SqlBak app.

Click "Connect" and after a few seconds the form would show it is connected: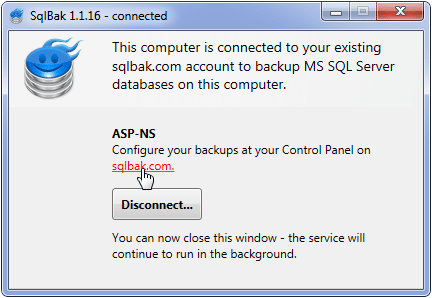 On your SqlBak Dashboard under Computers you can now see this computer in the list. This page allows you to see the status of the connected computers, change monitoring and other settings.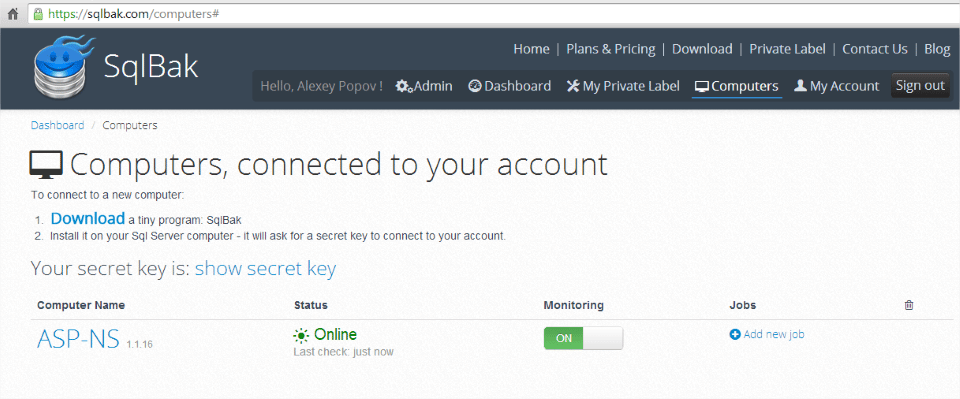 Create a new job
Click  on Add new job link to start creating a new backup.

Select one of the connected SQL Server computers (where you have previously installed  the SqlBak App), select or type the name of the SQL Server you are connecting too ("." or ".sqlexpress" are the most common), and then specify the credentials (a Windows or SQL Server account) with sufficient rights to connect to the SQL Server and run the backup job. The credentials will be stored encrypted. Please note that there will be no connection from the outside to your SQL Server. The SqlBak App running on the same computer will use this account.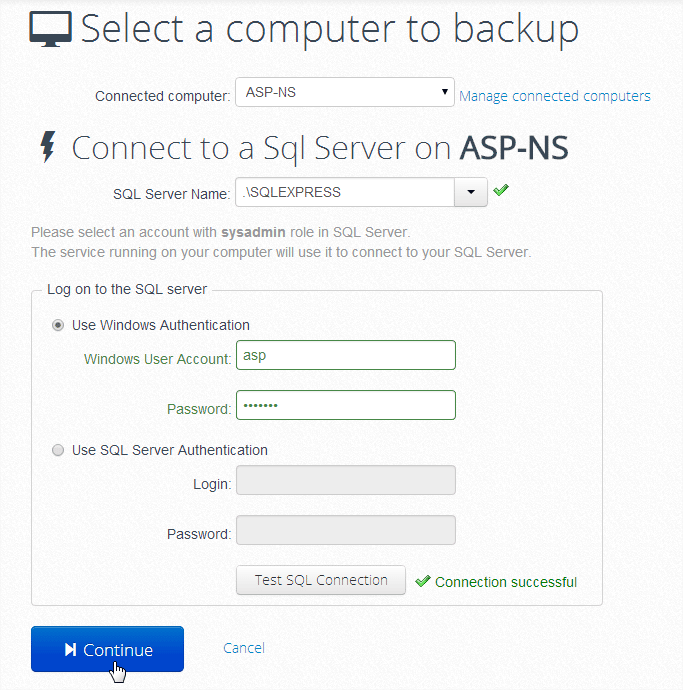 Click "Continue" and on the "Job Settings" page select the databases you would like to backup.
Then select where to store the backups (backup destination). Click on "Add backup destination".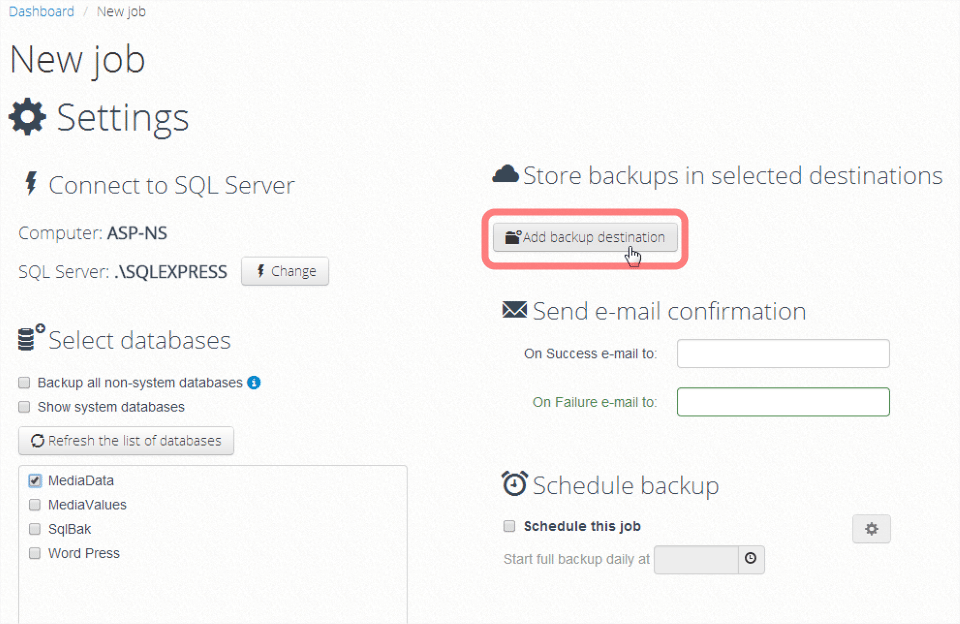 Select "Dropbox" as a destination for your backups.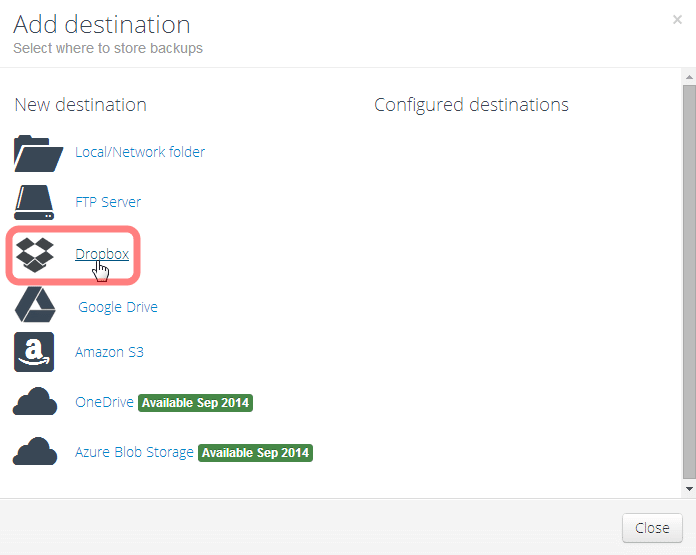 The "Dropbox Settings" window pop up. Here you would need to authorize (only once per computer) the SqlBak App to access your Dropbox. Click "Authorize" button.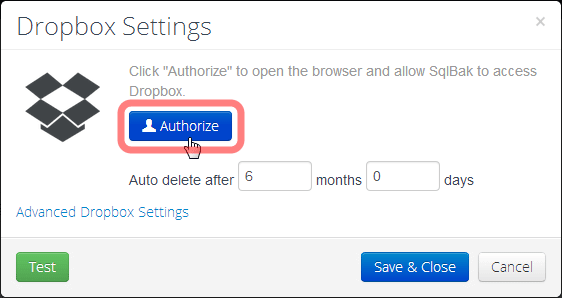 The Dropbox authorization page will open in a new browser window. Log in to your Dropbox account if necessary and click "Allow" button to allow SqlBak to connect to your Dropbox. Note that the app will only have access to files in the new /Apps/SqlBak/ folder in the Dropbox.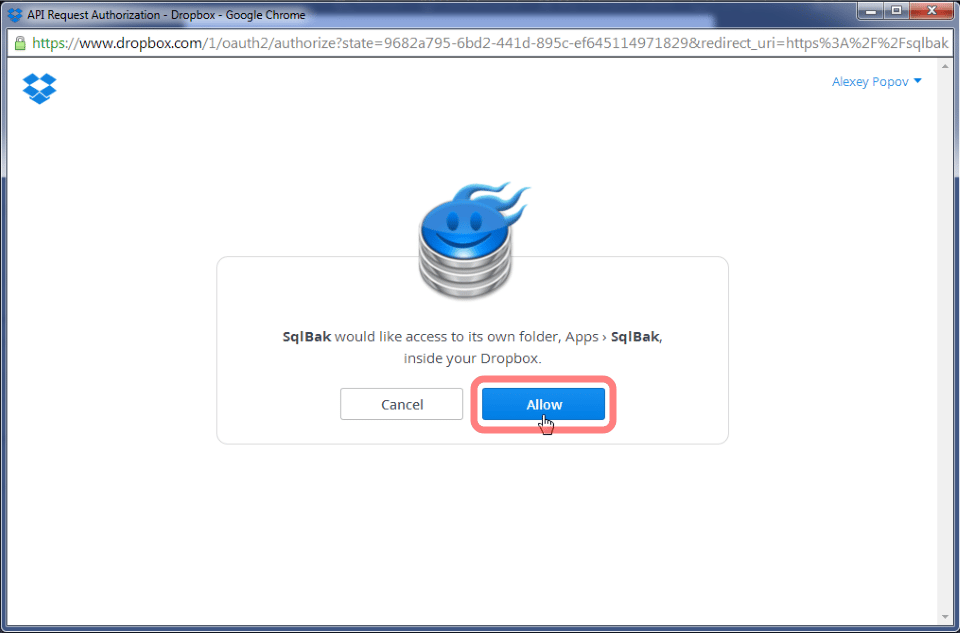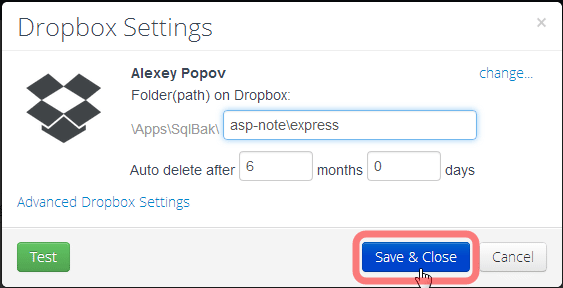 The window with the Dropbox Request Authorization will close  in a few seconds and you will see the updated "Dropbox Settings" window. Note that the backups can only be stored in /Apps/SqlBak/ folder in the Dropbox. Click on "Save & Close" to return to the "Job Settings" page.
Click on "Run Now" button to run the job.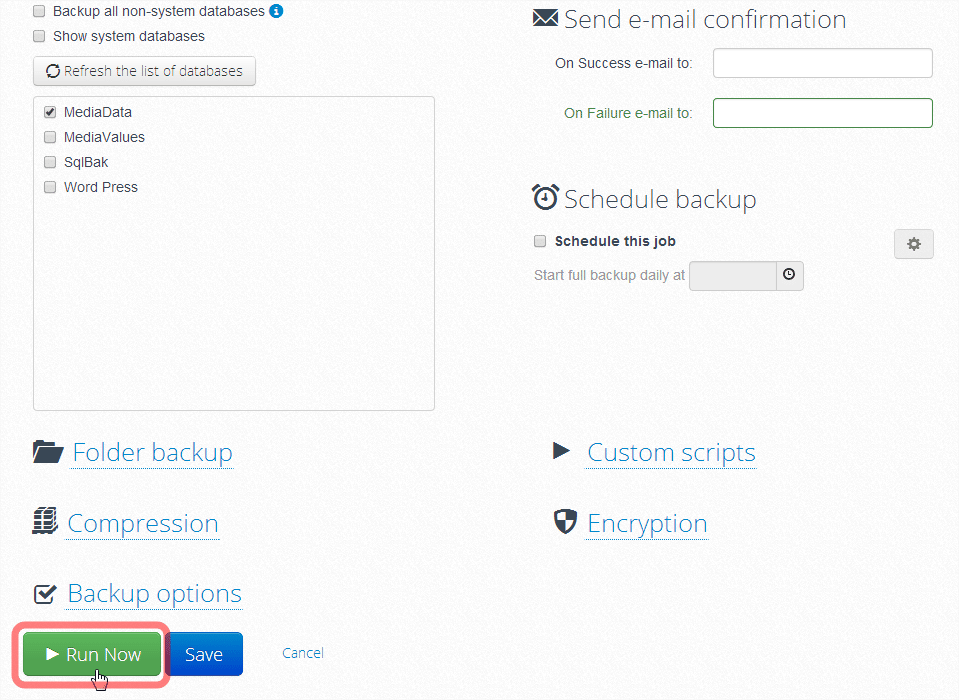 You will see the log page with the the backup progress.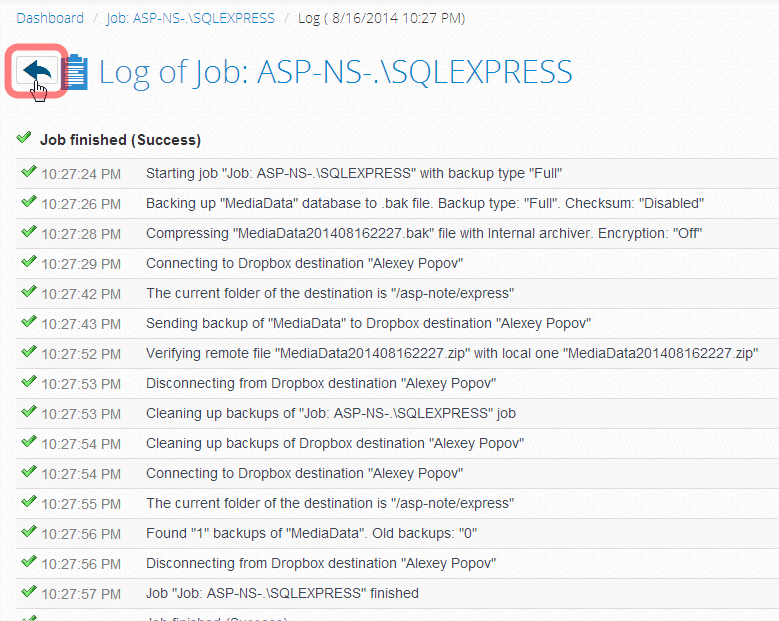 To get email notifications about your backups, please enter your email address into "Send e-mail confirmation" fields for success or failed backups.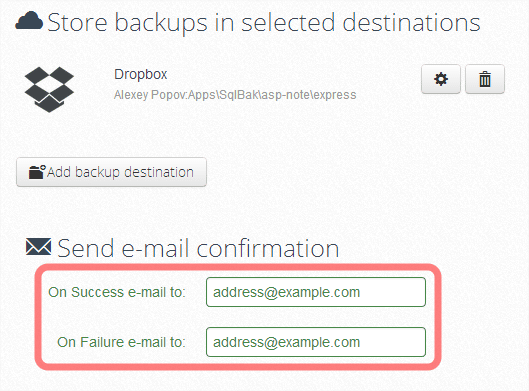 Here you can also schedule the job to make full, differential and transaction log backups.

Just expand "Schedule backup" options to see or configure all backup types.