Connect to your databases

"It just works. It tells you when it works and it tells if there is a problem. The restoration process is easy too."

"I have been using the software for a long time for MySQL and MariaDB database backups and it has always given me the security of a reliable and healthy backup. Now with the centralized service in the cloud, it has greatly facilitated the management and monitoring of backup routines on the servers I use. My sincere congratulations to Pranas.NET for the excellent software."

"The SQL Backup platform surprised me with its ease of use and the innovative way it was designed. It's lightweight and it's very fluid. It has immense dynamism with very high security. SQL Backup is essential for my business. I am very satisfied. Congratulations to the entire team!"

"What I like most about SqlBak is :
It's very simple to install and maintain.
It uses the native backup mechanism of MSSQL Server and It's very stable and reliable.
It has a lot of useful features available for parametrization, like compression, encryption, email notification etc.
It has a great Management portal where you can also get detailed statistics."

"SqlBak has made it possible for us to backup all our MySQL databases in a single pane of glass and in a secured manner compared to previously when we had back up different databases from different cloud providers and on-prem locations all over the place."

"SqlBak is a great product for managing multiple SQL instances from a central location. The features are what we need in this cloud computing era but the quick customer service is really what sets SqlBak apart from their competitors."

"SqlBack is a solid and above all reliable tool for the safeguarding of the most important thing for a company, which is its information. I have been using the service for more than 1 year and I have never failed. Thanks"

"I have been in search for a reliable and affordable online SQL database back-up plan for my clients for quite some time. Being a former SQLBackupAndFTP user I realized SqlBak offers just that what I was looking for. Stable, scalable, serious professional support and very friendly to use."
Databases backed up so far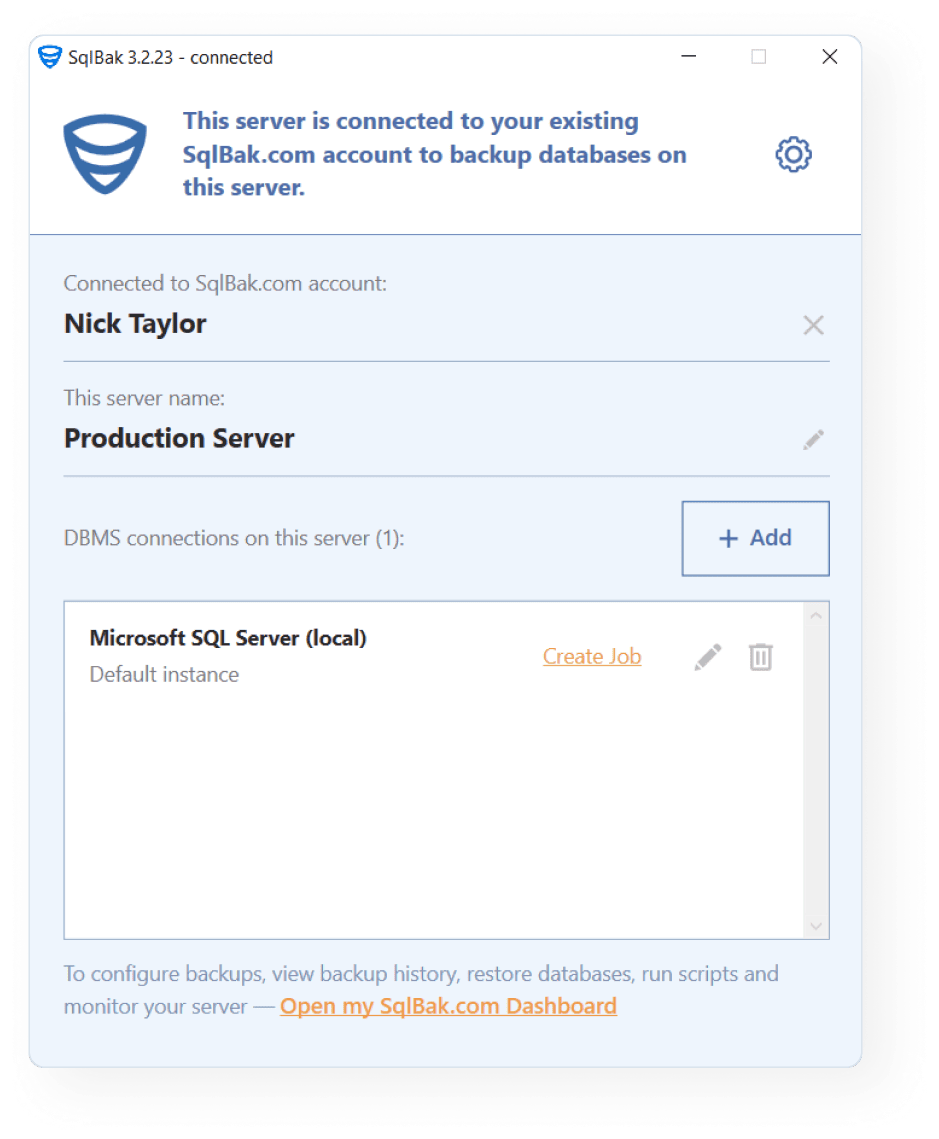 Install an app
Install a lightweight app on your Windows or Linux server and connect to your database and SqlBak account. Then forget about it – it will run as a background service.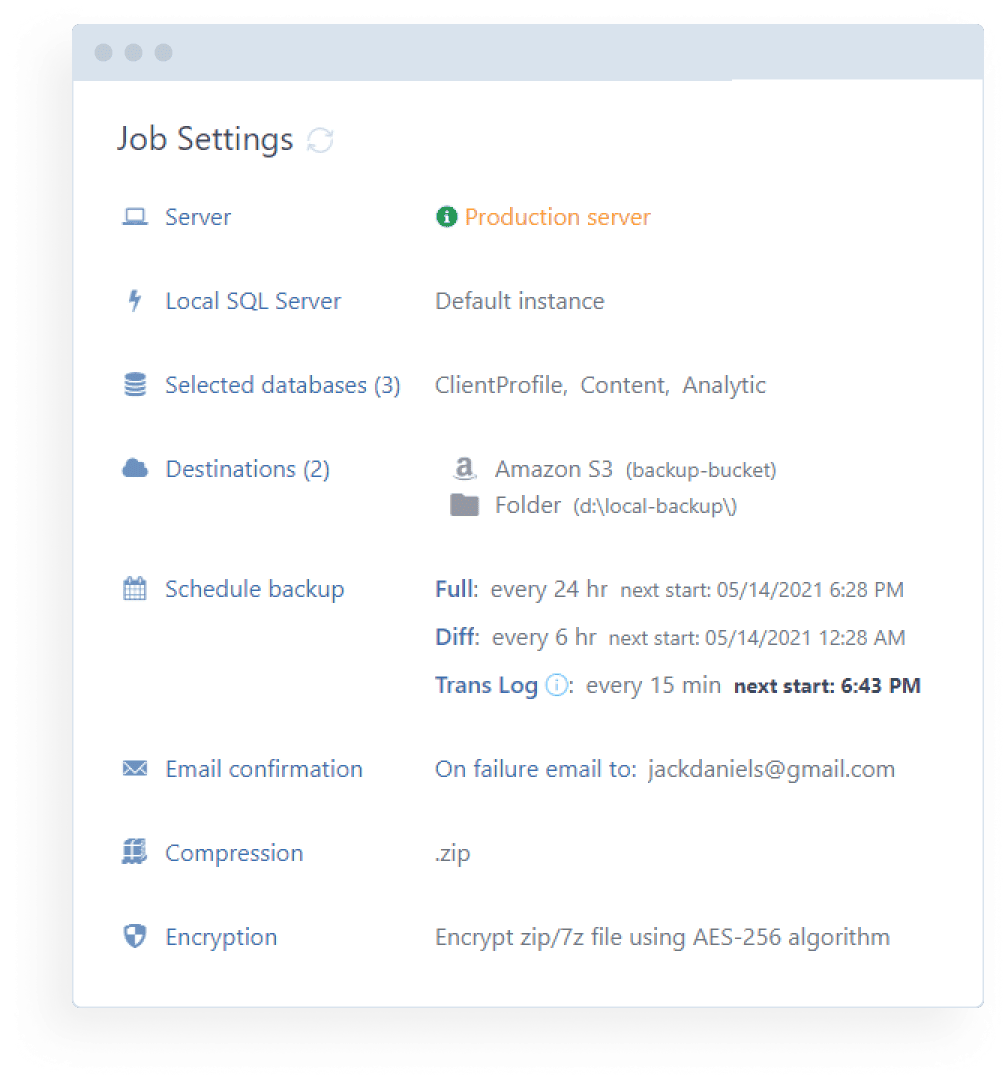 Schedule a backup job online
Create a new backup job on SqlBak.com. Set encryption, compression and notifications. Select any of your cloud storages to send your backups there. Schedule it.
Manage backups on multiple servers
Connect to any number of servers and see all your backups on a single page.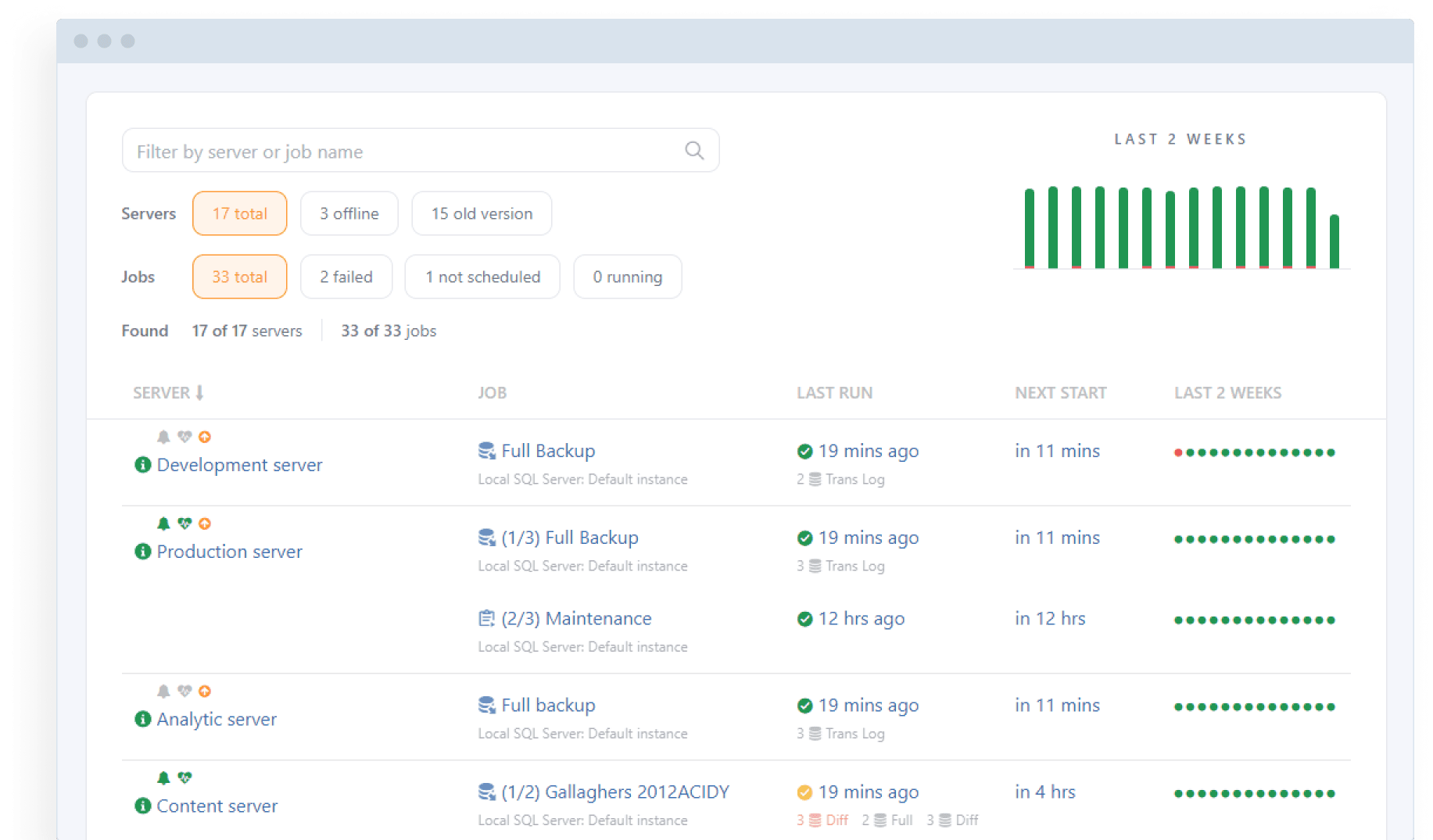 Integrate SqlBak into your product
Users can check the status of their backups with the REST API and access the options for connecting new servers and setting up new jobs via the command-line interface.
Perform the backups for your customers
The Private Label option is available for our partners. The app, website, emails and backup history will feature your company name and logo exclusively.
Contact us
The backups are protected
Your backups are encrypted and uploaded to your storage directly from your server, bypassing SqlBak.com
The credentials are safe
Your database connection credentials are encrypted and stored on your server, not on SqlBak.com
Trusted company
We are the creators of
SQLBackupAndFTP
- the original SQL Server backup utility with over a million installations since 2008