We have updated the SqlBak Dashboard – this is the main control panel where users can see all of their backup jobs on a single page (see demo). The new features will be particularly useful for customers who have many SQL Server backup jobs. Let's take a look at how these new features can make your life easier.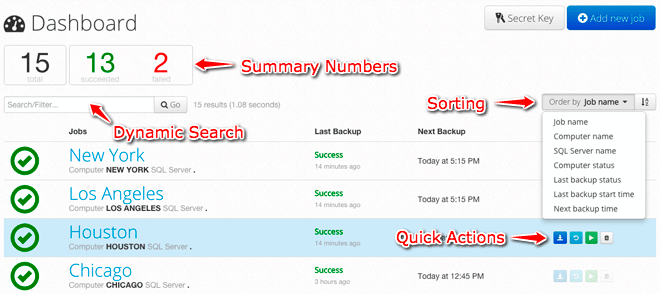 Summary Numbers
If you had a large number of jobs, it may have been difficult to see their overall status.  In particular it was hard to see how many of jobs failed and need your attention. Now you just need to look at the "failed" number at the top of the dashboard.
Note though that these numbers are not shown if you have less than 3 jobs as you can easily see it from the job list.
Dynamic Search
Before if you had a lot of jobs it was not very convenient to manage them due to the long list and some customers asked us for job groupping or tagging options. Now with the advanced job search/filter control you can easily reduce the job list by showing only those rows that contain a certain text in their job or computer name.

The filter is applied dynamically as you type the search text so you don't even need to click the "Go" button.
Sorting
The sorting feature also helps you to deal with the large number of jobs in your list. For example if you sort the list by Last Backup Status you will get all failed jobs on the top of the list. In the same manner you can easily find all offline servers by sorting the list by Computer Status.
Remember that you can always toggle Search/Filter and Sorting controls  by clicking the magnifying glass icon next to the "Secret Key" button (it  appears only when you move the cursor there):

Quick Actions
Don't forget about the quick action buttons available for each job in the list. They enable you to do the most common tasks right from the dashboard without necessity of going to the job .
This time we added the "Run Now" button allowing you to quickly the job manually. This is especially usefull when you need to restart several failed jobs as you don't need to open all of them one by one.
We hope you will like all these innovations. If you have any question or suggestion don't hesitate to ask right here in the comments.